PINOT PALOOZA WINE DINNERS
タスマニアのゴーストロックのチーフワインメーカージャスティンさんが、今年の初のピノパルーザに参加する予定です!そして、なんと木曜日の夜にはディナーをホストしてくださることになりました!
こんな機会は滅多に無いのでぜひこのチャンスを逃さないで下さい"
Our good mate Justin from Ghost Rock is also making this way to Tokyo and even better he's hosting a dinner on Thursday night. For those who have sadly missed out on tickets, here is your chance to meet one of our favourite wine makers in person. 
31st May 2018.
BOOK: https://ghostrockatbillsginza.peatix.com/

OUT RESTAURANT
ワインメーカーさんに会おう:
Jeremy Dineen, Neil Prentice, Steve Flamsteed
5月24日18時~
ピノ・ノワール ティスティング
OUTにて開催されるオーストリアのワインメーカー3社による一夜限りのティスティングイベント。ジョセフ クローミーワインズ(Josef Chromy Wines)のJeremy Dineen, ムーンダーラ(Moondarra)の Neil Prentice, ジャイアント ステップス(Giant Steps) のSteve Flamsteed氏らに会いに来てください。5月27日に開催されるピノ パルーザ ジャパンの試飲会として、これら3社の美味しいワインを準備しております。
ディナーの予約はこちらから:www.out.restaurant
ワインティスティングのみの場合は予約は要りません。
MEET THE WINEMAKERS
24 May: 18:00~
OUT will be hosting three Australian winemakers for one night only. Come and meet Jeremy Dineen from Josef Chromy Wines; Neil Prentice from Moondarra; and Steve Flamsteed from Giant Steps. All three will be pouring their delicious pinot noir wines as a preview to Pinot Palooza Japan, taking place on the 27th May.
Reservation for dinner via: www.out.restaurant
Wine tasting only, no reservation required.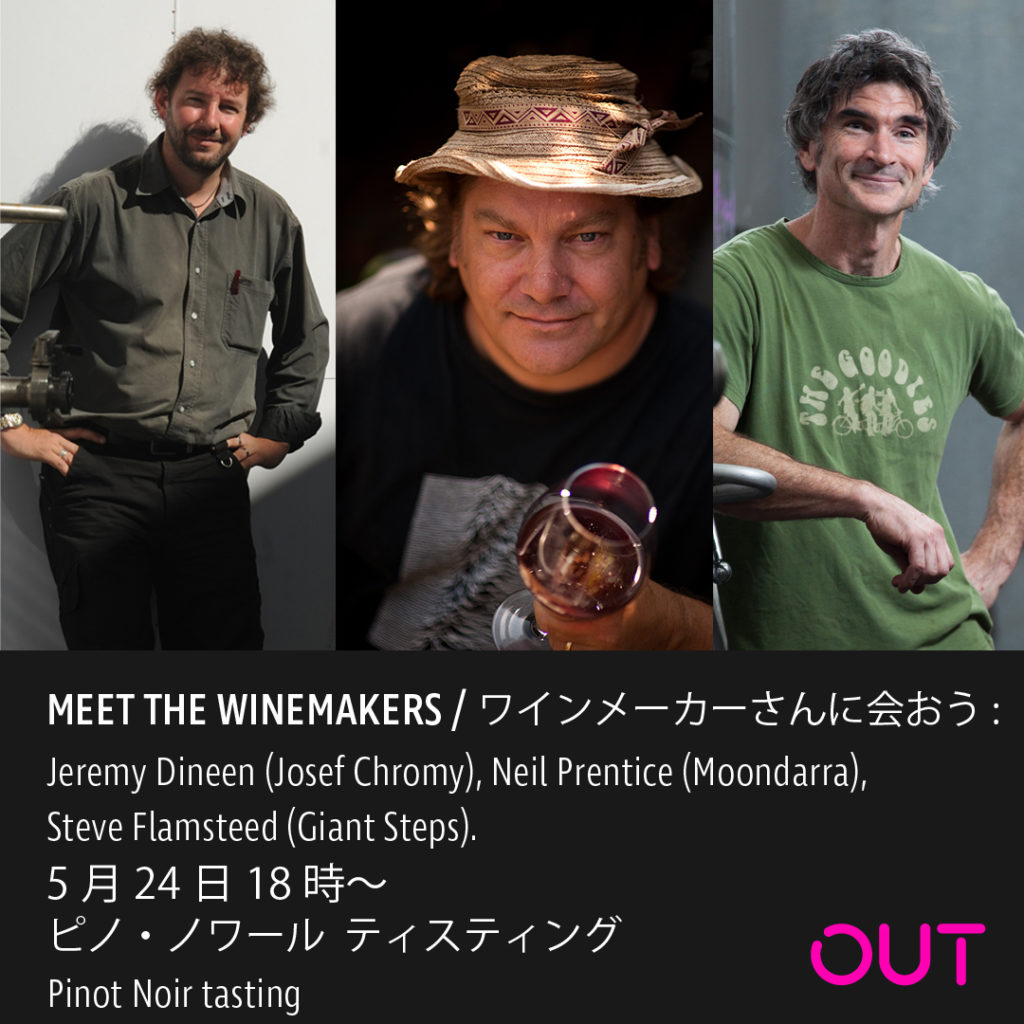 LONGRAIN
チケット完売でピノパルーザに行きたくても行けない方!まだオーストリアワインを楽しめるチャンスがあります!
5月26日(土曜日)にタイ料理で人気のレストランLongrain(ロングレイン)がオーストリアのムーンダラのワインメーカー、ニール プレンティスとストーニーライズのジョー ホリマンを招いて、ビュッフェスタイルで気軽にタイ料理とオーストリア産ワインが楽しめるスペシャルディナーをご用意しております。
ご予約はロングレインにてお電話で受け付けておりますのでお見逃しなく!
Did you miss out on tickets to Pinot Palooza but still want to meet some Australian winemakers? Longrain is hosting a special Pinot Noir dinner on 26 May. Join winemakers Neil Prentice from Moondarra and Joe Holyman from Stoney Rise for a casual Thai-style buffet, matched with their wines. Call Longrain to reserve your place.